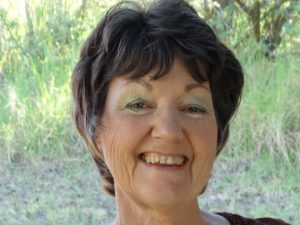 The name is Bennett – Colleen Bennett.
Actually, that's my maiden name.
When I wrote my first novel, I faced the momentous decision of whether or not to use my married name. I chickened out.
Let me explain.
As a teenager, I sometimes wondered what my married name might one day be and was very apprehensive that it might be Poggenpoel, which seemed to me to be a dreadful fate. (Apologies to anyone so named who might read this.) I did not at that stage realise that there are worse fates – such as having a name which no one can pronounce.
Yes, I married a German with a name which even some Germans find strange. It is a name which, if you know how to spell it, you cannot pronounce it, and, conversely, if you know how to pronounce it, you will be unable to spell it!
So let me, up front, give you a quick lesson in pronunciation.
Say "WORM" with a silent 'r' (This will be very difficult for Americans and the Irish!)
Now say "WO(r)M -uh (As though you have been [softly]punched in the stomach.)
Now, leave out the 'w' – as in (w)O (r)M-uh
And, voila! Or, if you prefer, Bob's your uncle!
A very quick method is available to English-speaking South Africans. (Afrikaners, leave this method alone! Ek kan julle verseker dat Ermelo julle niks gaan help nie!)
Say ERMELO. Now leave off the LO. There you go! (If you can round your lips for the ER part, you will pronounce it perfectly. Remember, no rolling of the 'r'!)
And what is this name, you might ask.
I will risk spelling it for you, if you promise to remember the Worm from Ermelo.
OEHME.
Without the Worm from Ermelo, this is Owe me; Ooh me; Ohm; Oohm; Oh muh; Oh ma; and, the best ever, O'May! (And I will not even get started on what Afrikaners and black South Africans do to this name.)
Now you know why I am sticking to Bennett!
My life in a nutshell:
I was born in Welkom on the Free State Goldfields – the eldest of four children. We grew up in Virginia, a small mining town not too far away from Welkom.
I met my husband when I was in matric. (Yes, he was my date to our matric farewell.)
After I graduated with a BA from Wits, Barry and I got married. I was a high school teacher for a few years before permanently retiring from teaching to become a stay-at-home mom.
I produced two little sprouts – a boy, Dieter and, two years later, a girl, Natasha.
Because of Barry's work, we moved around from place to place – even spending seven years in Swaziland! We have now retired to the Kwazulu-Natal South Coast.
You might wonder, by the way, how it comes about that Barry has an English name, especially after warbling on and on about the dreaded surname. He was, in fact, named Bernd by his parents but renamed by a South African friend who could not get his tongue around the German pronunciation. (No, people, Bernd is not pronounced "Burnt"!!!)
My family has also included a stream of various dogs and cats over the years, who provided me with ample material for Dogs (and cats) of Our Lives.